Jurassic World: Dominion Dominates Fandom Wikis - The Loop
Play Sound
Arlington Attic Ghost

None
Background
Type
Haunting
Continent
North America
Country
United States
One-Time?
Yes
Theories

 ·

Ghost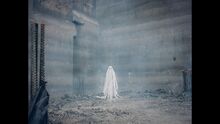 The Arlington Attic Ghost is a spirit rumored to haunt an old farmhouse outside of Arlington, Nebraska. The witness was a Nebraska native named Tonja Baker, who from August 1982 until April 1995 lived with her parents in the house.
Manifestations
[
]
The feeling of being watched
Objects going missing
Unexplainable noises
Background
[
]
When the Bakers moved into the old farmhouse, it was already 110-years-old, with a machine shed, a big barn, and a garage.
When Tonja was 14, her father died. It was after this time that she claims the activity in the house grew worse.
Notable Accounts
[
]
NOTE: Both of these accounts come from Nebraska native Tonja Baker.
One day while cleaning, my mother and I decided to go ahead and open a hidden door in the upstairs hall to see what was in there. When we did, there was a cool rush of air. My chest got heavy, and I couldn't breathe too well. We got to looking, and there was a very old crib in there, along with wallpaper rolls, old toys, and some other stuff, but I was too scared to look any longer. It seemed like someone had lost their baby or something. I just had to get out of there. Even thinking about it gives me chills. [sic]
Then there was the hall closet. One day I unscrewed the hinges and peeked inside. There was an old rocking chair, some baskets, and really old newspapers. All of a sudden I felt like I was being watched. I turned around, but nobody was there. The heavy feeling didn't go away, so I went downstairs. Whatever it was stayed with me. I felt panicky and ran out the door to the barn to get one of the horses ready to go to a neighbor's house. As I was leaving, I glanced up to my bedroom window, and I swear it looked as if someone was turning away from the window and walking away. My mom was at work. [sic]
Trivia
[
]
Tonja Baker reported severe feelings of dread when in the attic, to the point where she could not stay up there for extended periods of time.