Blue Albino Woman

None
Background
Type
Haunting
Continent
North America
Country
United States
One-Time?
No
Theories

 ·

Demonic entity


 ·

Ghost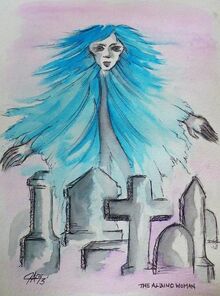 The Blue Albino Woman is a disturbing specter rumored to haunt the Rochester Cemetery in Topeka, Kansas. She is said to devour human flesh.
Manifestation
[
]
A cannibalistic albino spirit
Background
[
]
Supposedly, the ghost was once a normal person. Since she was albino, she had a strange and unique physical appearance; she'd easily stand out in the crowd. She was often teased and tormented about her looks. A group of men thought for sure she was a witch, so they dug out a grave for her, shoved her into it, and buried her alive. Many people believe her horrible death is the main reason why the woman is so angry and violent with people.
Sometimes, she can be seen roaming around the streets of Topeka. From afar, she just looks like a harmless and frail elderly lady, but the closer she gets to you, the more you notice how deformed she looks. She has a strange, blueish, pale pigment, rotting atrocious skin, red glowing eyes, sharp teeth, and long white hair. Many people who dare visit the Rochester Cemetery at night time usually encounter her. She often runs them off. Some people who don't make it say that the woman will devour them. She's even allegedly been seen arising from the ground. (itsmth.wikia.com)
Notable Accounts
[
]
According to CryptidLab, "James George reported his sighting for Monsters and Mysteries in America. It happened when he was a young child, shopping for school supplies at a store in town. He was told to go to the dressing rooms but wandered off to look at the mannequins. The Blue Albino Woman appeared behind him. George felt his breath leave his body, terrified of the cryptid. One of his older family members came to his rescue, demanding the ghost leave the store. She didn't hesitate and glided away. Despite incurring no physical harm, George said he will never forget that moment. It's worth noting that he never heard stories about the spirit prior to seeing her in the store."
Trivia
[
]
This legend could also be categorized as a Being.