Ghost Moose

None
Background
Type
Haunting
Continent
North America
Country
United States
One-Time?
No
Theories

 ·

Ghost


 ·

Cryptid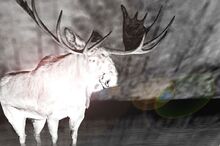 The Ghost Moose, also known as the Specter Moose or the Spectral Moose of Maine, is a ghostly animal said to have been sighted in several areas around Maine during the 1900s.
The creature was described as being an enormous moose 10 to 15 feet high, with a ghostly, dirty white coloration and brandishing an immense set of formidable antlers. The coat of the animal is sometimes described as glowing faintly. The Specter Moose was said to have an extremely acute sense of smell and hearing, as well as the ability to appear or disappear at will and to phase through solid objects. Hunters who came across the apparition often told of not being able to get near enough for a shot, as well as the animal's rather disconcerting habit of suddenly blinking in or out of existence right before their eyes. (mysteriousuniverse.org)
Manifestations
[
]
Background
[
]
The Specter Moose was first sighted in 1901, when a sportsman from Boston by the name of M.A. Cushing spotted the beast near Chairback Mountain in the Katahdin region. A few months later, the giant moose was seen again near the Lobster Lakes by a town guide named Clarence Duffy and a Bangor lumberman called John Ross. In the following years the moose would appear in waves of sightings only to disappear for years at a time before rearing its head again. One such rash of sightings occurred in 1917, another in 1932, and then again in 1938. (mysteriousuniverse.org)
Notable Accounts
[
]
As of yet, there are no notable accounts that we could find.
Trivia
[
]
A hunter by the name of Gilman Brown and his companion, a taxidermist named Granville Gray, described an encounter in which they fired at the moose only for it to vanish immediately.
This is the 200th page on this wiki.