Jurassic World: Dominion Dominates Fandom Wikis - The Loop
Play Sound
Mountain Boomers

A digital reconstruction of a typical Mountain Boomer sighting.
Background
Type
Cryptid
Continent
North America
Country
United States
One-Time?
No
Theories

 ·

Cryptid


 ·

Hoax by Jimmy Ward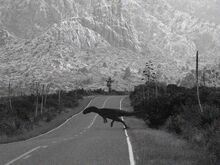 Mountain Boomers are a saurian cryptid said to haunt the forests and roadsides of West Texas.
Appearance
[
]
Mountain Boomers are said to be bipedal reptiles or non-avian therapod dinosaurs.
The name mountain boomer is a reference to the animals booming cries, according to Gerhard and Redfern, 2010;
"Their name is, apparently, a reference to the thunderous sounds these monstrous reptiles make when they bellow out from the distant canyons."
The authors also note the animals propensity for scavenging roadside carcasses;
"Many old-timers from the foothills claim to have known someone who has stumbled upon these menacing creatures feasting on road kill….."
Possible Explanations
[
]
There are several explanations as to what the creature could be. Theories include:
An undiscovered species (a Cryptid)
An uncommonly large lizard running on two legs in short bursts.
A hoax; the sole source for 'sightings' comes from a single article by Jimmy Ward in 'Far Out' magazines premier issue which came out shortly after Jurassic Parks release in 1993. As the name 'mountain boomer' is common nomenclature for a small, common collared lizard, Wards informants may have been telling tall tales. To what extent Ward, who was primarily a ufologist, was sincere in his reportage is unknown. Outside of Wards report there is no existing folkloric reference to such a creature, and other cryptozoologists have failed to find any mention of it in the area.This important primary source has yet to be digitized. Until it is found it is unclear what to make of this 'cryptid'.
Sightings
[
]
Keel (1994) noted very briefly that a "dinosaur" was supposed to have run a car off the road in Texas in
the early 1970's.[1]
Ward spent time in that area and met one individual who had just witnessed the animal. The lizard was approximately 5-6 feet tall, was eating roadkill, and ran away with its
long tail straight out behind it.