Jurassic World: Dominion Dominates Fandom Wikis - The Loop
Play Sound
River Lizards

A digital reconstruction of a typical River Lizard sighting.
Background
Type
Cryptid
Continent
North America
Country
United States
One-Time?
No
Theories

 ·

Cryptid


 ·

Hoax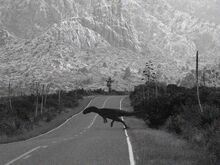 River Lizards, also known as River Dinos and Mini Rexes,  are saurian cryptids said to live across the South-West states, particularly clustering around the Four Corners region. 
Appearance
[
]
The "Dino" is said to walk exclusively on its hind legs; to stand about 3 feet tall; and to have armlike appendages instead of forelegs. Investigator Nick Sucik, who first heard about the Dinos from individuals involved in the shadowy animal trade, said of the creatures: "The reptile usually is seen near a wet environment and moves swiftly, with grace."
According to Sucik: "Every reference we've heard usually affiliates them with water. That's where the term 'River Dino' comes from."[1]
Possible Explanations
[
]
There are several explanations as to what the creature could be. Theories include:
An undiscovered species (a Cryptid)
An uncommonly large lizard running on two legs in short bursts.
Hoaxes and tall tales.
Rumors of modern dinosaurs are inextricably linked to the underground exotic reptile trade. It is possible that forgeries have been sold, like the Jenny Haniver and Feejee Mermaid of earlier times. However this does not explain sightings of the living creatures.
Sightings
[
]
An early sighting of a River Dino came from a couple who had been on a trip to Arizona. While there, they claimed to have seen the carcass of a reptile the likes of which they had never seen before. "It looked like a toy to them," claimed Sucik.[2]
In 2002 a couple sighted a River Lizard in Cortez, Colorado. They gave a detailed account to report to KSL-TV News:[3]
"'It was a Jurassic Park flashback. I mean I was — I couldn't believe it,' says Shannon Ystesund. Ystesund and a girlfriend were driving down this road the night of July 5. She says a creature ran in front of the headlights, a very big lizard, nearly vertical, running on its hind legs. 'We were, you know, freaked out. Immediately we thought it was some kind of dinosaur or a huge lizard. So we came home," she says. 'They just walked in and they were real excited and they said, 'we just saw a little dinosaur run across the road,'" says Ystesund's husband, Keith. 'Looked like the little dinosaurs in Jurassic Park that surrounded everybody in the tall grass fields," says Shannon.[4]
"This lady gives only her first name, Bea, because she's been reluctant to go public with her story. 'Yes, I have, because people think you're nuts," Bea says. "Like a miniature dinosaur, you know. That would be as close as I can come to describing it. And I've never seen anything like it.'[5]
One pair of witnesses, a mother and daughter who had been driving through the Yellow Jacket area of Colorado in 2001, described it as having a long neck and skinny legs like a bird and looking "like a cross between a bird and a dinosaur." However, it had no feathers and its "arms" seemed to extend from its upright neck rather than its body. These women estimated that the creature would measure about 5 feet, if stretched from neck to tail.[6]
Prior to this, in early 1996, a Coloradan woman from the Mesa Verde area saw what she described as "not a lizard, really, about 3 1/2 feet long and 3 1/2 feet high. It moved very fast. As far as I remember, there were only two legs that seemed to balance it." This animal had a cone-shaped snout and a tail around two feet in length. The woman proceeded to consult with Jeff Thulin, an expert from the Reptile Reserve who had heard other, similar, reports. Thulin conceded that from the description he had heard, no match to any known species could be made, and that due to the local climate, no lizards could have lived through the winter.[7]
Perhaps the most remarkable mini-rex claims of all, however, are a couple attesting to the alleged capture of living specimens, one of which was even supposedly kept as a pet for a while by its captors. This latter case featured testimony given to one of Nick's correspondents by his aunts. They claimed that some time between the end of the Great Depression in America (late 1930s) and the early 1940s, while following the crop harvests from state to state as they travelled out west, what they called a 'baby dinosaur' and which seemed to them to resemble a tiny T. rex would come to their camp when their mother was cooking outside. One day, they succeeded in catching it, and afterwards kept it inside an old bird cage for a time, feeding it on leftovers, and finding that it would eat both meat and vegetables. According to Nick's account of this fascinating little animal:
'It was described as having sharp little hooks on its hands and very sharp teeth, like that of a kitten. Its skin was like a lizard's but felt warm. It never tried to bite or scratch but it did not like being held. The animal behaved "like a tame squirrel." During the time they kept their pet, it grew from the size of a kitten to roughly the size of a cat, by which time it was far too big for the cage.'[8]
Eventually their family had to move elsewhere in order to follow the crops, so their father told them to leave their pet behind. Of especial interest here is that when the aunts first told their nephew about their most unusual former pet, back in the 1970s, they remembered that when it ran it "flattened out, stretched its head out front, tail out back and was really fast". As pointed out by Nick, whereas this running posture is widely accepted nowadays by palaeontologists for bipedal fossil dinosaurs, it wasn't back in the 1970s. So if the aunts had been making up their story, they were remarkably prescient concerning this particular facet of dinosaur behaviour.[9]
One 'not-so-mini' mini-rex was reported by a lady called Myrtle Snow, who seems blessed with an extraordinary ability to encounter these mystery reptiles, judging at least from the fact that she claims to have done so on several occasions throughout her life in and around Pagosa Springs, Colorado, as documented by Nick. Perhaps the most dramatic incident described by her allegedly took place during or around the late 1930s when, following the loss of several lambs to an unknown predator, a Pagosa Springs rancher armed a shepherd and asked him to guard the remaining flock. This he did, very successfully – by shooting dead a large, mysterious creature deemed to be the predator, whose carcase was then placed on a sled and hauled back to the ranch by one of its Apache ranch hands, using a team of mules.[10]
After being deposited inside a barn there, this specimen was viewed by many local farmers, including Snow's grandfather, who took Snow (then still a girl) with him, so that she could see it too. In 1982, following its publishing an article on the subject of whether prehistoric dinosaurs had been cold-blooded, Snow wrote to the Rocky Mountain Empire Magazine (the Sunday supplement of the Denver Post newspaper), describing all of her alleged encounters with supposed modern-day dinosaurs, including her close-up viewing of the deceased mystery beast shot by the shepherd.
Another case of reputed mini-rex capture came to light when a lady wrote to Nick Sucik to inform him that her three boys had once caught such a creature in New Mexico. The specimen in question was unusually large but slow-moving, and when they caught it they could see that it was old, with fainter body colouration than other, faster specimens that they had previously seen (but had never succeeded in capturing). Its body alone measured 20-24 in, i.e. not including its lengthy tail, but after admiring this impressive creature for a while, the boys released it. Interestingly, they referred to it as a Mountain Boomer.[11]